A collection of things I've made on the Internet for my own satisfaction.
I Am Stuck: a Facebook chatbot
True story: I once got trapped in a bathroom stall at Nomads so severely that I actually had to kick the door down. This traumatic incident inspired me to write a trio of middling to okay scifi short stories. Now I've turned one of those stories into a surprisingly fun chatbot on Facebook Messenger. I built it myself! It works most of the time!
Win a Date with Channing Tatum: a Twine game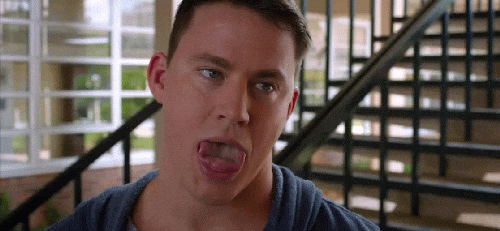 Made in the wake of Channing Tatum's deliciously charming AMA, Win a Date with Channing Tatum is a soothing Twine game intended to help players relax and unwind. Made over a weekend, with my superannuated HTML skills.
Not Paying Attention to Star Trek
The year was 2013.
I had the entire run of 'Star Trek: The Next Generation.'
I had a short attention span.
The year was 2013. A puff of white smoke had just heralded the election of a new Pope. Robin Thicke was setting the airwaves aflame with that song that was kind of maybe a bit about rape. Miley Cyrus had just discovered her tongue, and was waggling it wildly at whoever would look. And a California barista sent an upsetting Instagram video to a girl he met one time, sparking the short-lived and forgettable Instagram video trend #StarbucksDrakeHands.
After making my own Starbucks Drake Hands (of course), I went to the gym, had a think, then sprinted home to make a video for Drake's 'Hold On We're Going Home' edited out of #StarbucksDrakeHands. The resulting video did not go viral, but did make me think the Internet was trying to seduce me.
Valentines Vines
It was Valentines Day at Nomads and I wanted to do something special, so I convinced my bros to do filthy things with whatever we found lying around.